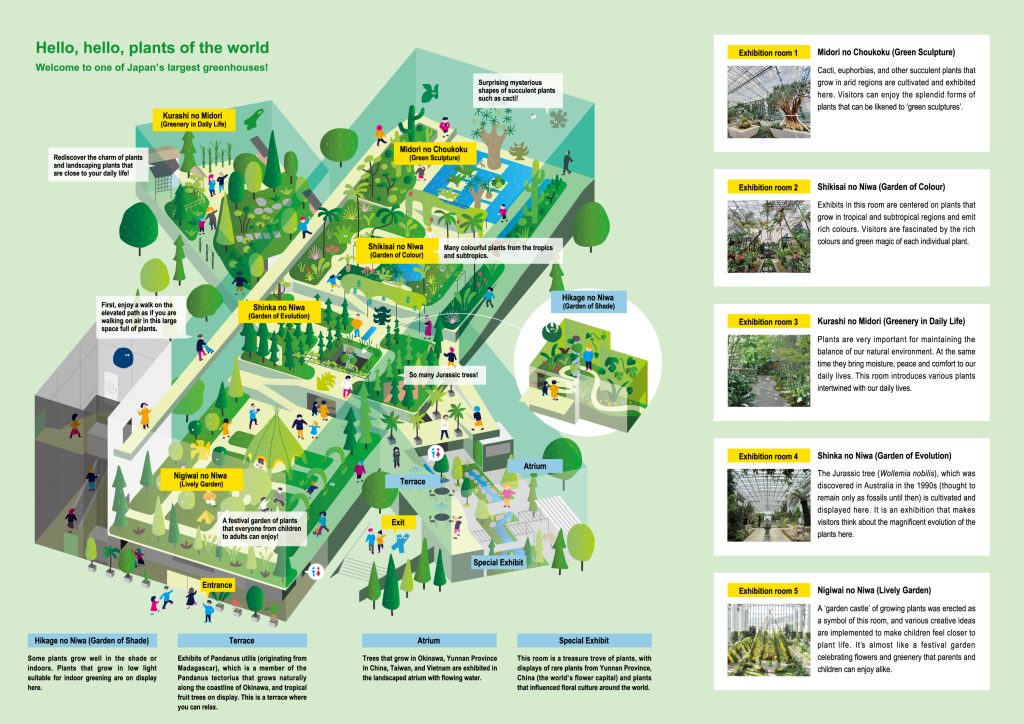 Awaji Greenhouse <brochure>(PDF)
---
 about Awaji Greenhouse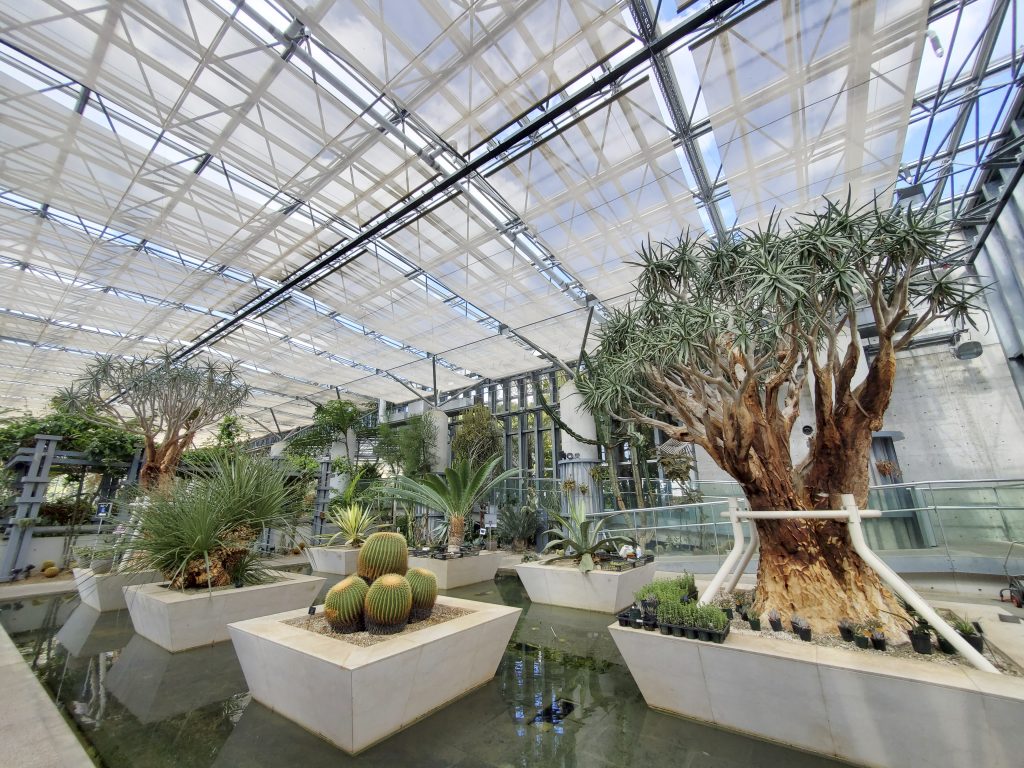 Exhibition room 1 
Midori no Choukoku (Green Sculpture)
Cacti, euphorbias, and other succulent plants that grow in arid regions are cultivated and exhibited here. Visitors can enjoy the splendid forms of plants that can be likened to 'green sculptures'.
Exhibition room 2
Shikisai no Niwa (Garden of Colour)
Exhibits in this room are centered on plants that grow in tropical and subtropical regions and emit rich colours. Visitors are fascinated by the rich colours and green magic of each individual plant.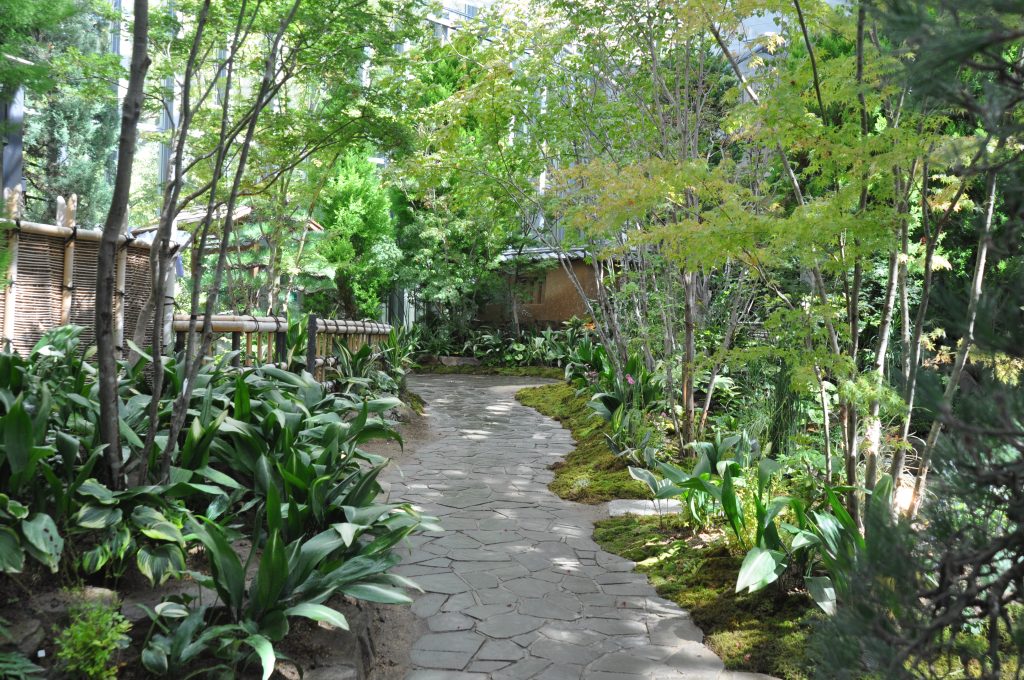 Exhibition room 3
Kurashi no Midori (Greenery in Daily Life)
Plants are very important for maintaining the balance of our natural environment. At the same time they bring moisture, peace and comfort to our daily lives. This room introduces various plants intertwined with our daily lives.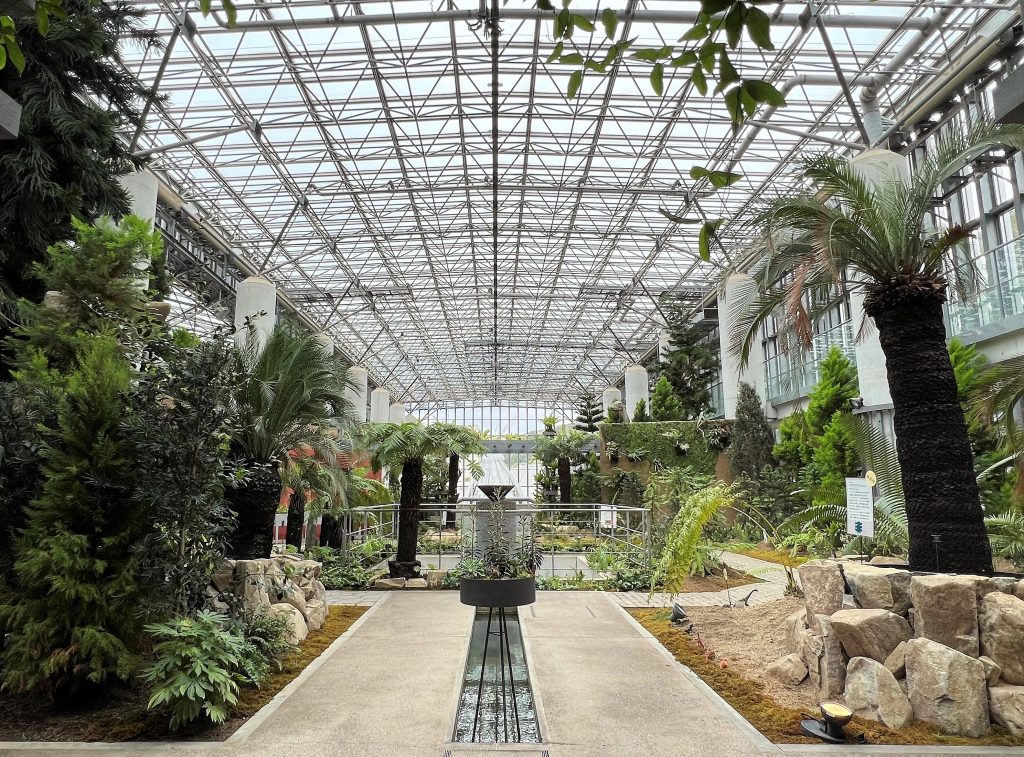 Exhibition room 4
Shinka no Niwa (Garden of Evolution)
The Jurassic tree (Wollemia nobilis), which was discovered in Australia in the 1990s (thought to remain only as fossils until then) is cultivated and displayed here. It is an exhibition that makes visitors think about the magnificent evolution of the plants here.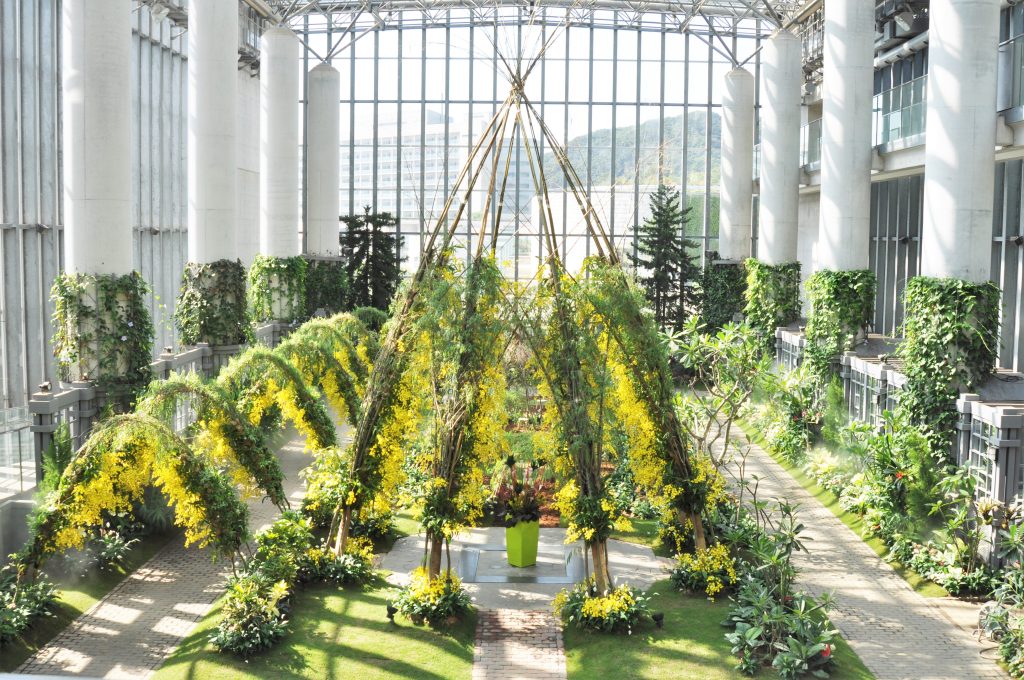 Exhibition room 5
Nigiwai no Niwa (Lively Garden)
A 'garden castle' of growing plants was erected as a symbol of this room, and various creative ideas are implemented to make children feel closer to plant life. It's almost like a festival garden celebrating flowers and greenery that parents and children can enjoy alike.
Hikage no Niwa
(Garden of Shade)
Some plants grow well in the shade or indoors. Plants that grow in low light suitable for indoor greening are on display here.
Terrace
Exhibits of Pandanus utilis (originating from Madagascar), which is a member of the Pandanus tectorius that grows naturally along the coastline of Okinawa, and tropical fruit trees on display. This is a terrace where you can relax.
Atrium
Trees that grow in Okinawa, Yunnan Province in China, Taiwan, and Vietnam are exhibited in the landscaped atrium with flowing water.
Special Exhibit
This room is a treasure trove of plants, with displays of rare plants from Yunnan Province, China (the world's flower capital) and plants that influenced floral culture around the world.
---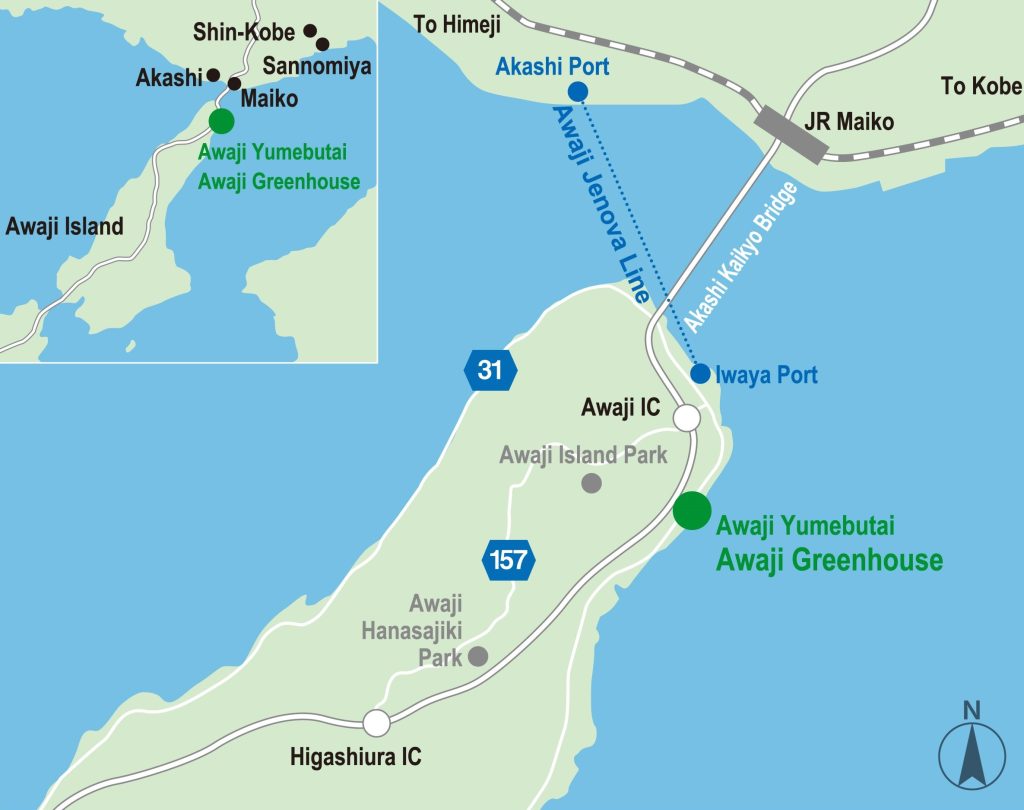 By car
<From Kobe>
Take the Kobe Awaji Naruto Expressway to exit 'Awaji IC', and continue on Route 28 southbound (approx. 5 mins)
<From Tokushima>
Take the Kobe Awaji Naruto Expressway to exit 'Higashiura IC', and continue on Route 28 northbound (approx. 10 mins)
※If using car-nav enter destination as 'Grand Nikko Awaji' (グランドニッコー淡路)
※Please use underground parking at the Grand Nikko Awaji (600 JPY/per entry/per day)
Public Transportation
<Expressway Bus>
①From JR Sannomiya or JR Shin-Kobe Sta. to 'Awaji Yumebutai-mae' (approx. 50mins)
②From JR Maiko Sta. or Sanyo Dentetsu Maikokoen Sta. to 'Awaji Yumebutai-mae' (approx. 20mins)
<Jenova Line (High speed ferry)>
Take ferry from Akashi Port to Iwaya Port, and from there take a taxi or Awaji City Seikatsu Kankou Bus
---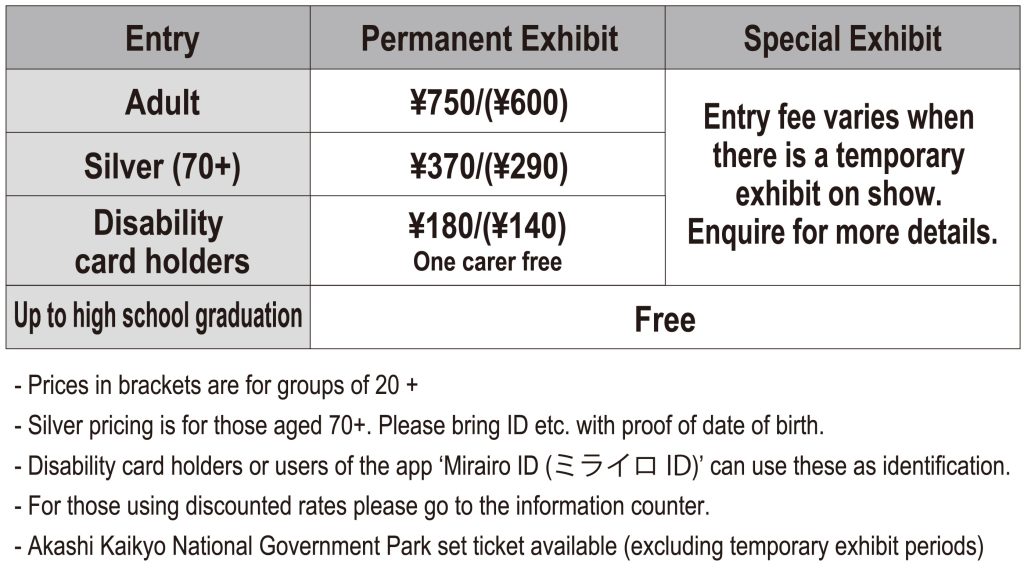 ---
Opening hours: 10:00-18:00 (Last admission 17:30)
*Business hours may vary during temporary exhibits. Check website for more information.
Closed: 2 days per year (enquire for more information)
 Awaji Yumebutai Greenhouse Awaji Greenhouse
Yumebutai 4, Awaji City 656-2306
TEL: 0799-74-1200 FAX: 0799-74-1201